There are several reasons to rustle up a batch of Zesty Green Soup. The joy of a tasty meal and that slightly smug feeling that often comes from putting something super nutritious into your body don't always go hand-in-hand. However, Zesty green soup with lemon and parmesan is an excellent all-rounder that packs in a good dose of nutrients and flavours.
Lemon juice and zest add a zingy freshness that contrasts with the slightly earthy taste of pureed spinach and kale. The soup is thickened with pureed cottage cheese and a small amount of parmesan brings a gentle nuttiness and saltiness.
After a bowl of zesty green soup, you are likely to feel like you have done your good deed for the day. It's perfect if you are feeling under the weather and need to give your immune system a bit of a boost. I also tend to turn to this green soup to counteract a period of less healthy eating and over-indulgence.
What's more, it is also super easy and quick to make. It will take you around 30 minutes to produce a pan of Zesty Green Soup. Make a large batch and keep some on-hand in your freezer for busy days.
My Zesty Green Soup is a healthy interpretation of a spinach and parmesan soup recipe from a soup book I own. I'd often serve this soup as a starter and it never failed to impress our guests. I love the flavours, but always considered it a bit of an indulgence because of the large amount of cream and parmesan added. I decided to swap full fat creme fraiche for blended low fat cottage cheese and reduce the parmesan to create a healthier everyday soup.
Why you should make zesty green soup with lemon and parmesan:
Healthy - a bowl of green soup is packed with goodness. Spinach and kale provide vitamins to boost your immune system as well as iron. Reduced fat cottage cheese adds a dose of protein that ensures the soup will keep you full for a while. Because there is no cream, the soup is low in fat.
Freezer friendly - make a large batch and freeze it. Your zesty green soup will be ready for you on those hectic days that leave you with no time to prepare lunch or dinner.
Tasty - most importantly, my green soup is a joy to eat because it is packed with flavour. Taste garlic, citrus and umami parmesan in each mouthful.
Ingredients:
How to make Zesty Green Soup?
1. Cook the kale:
Cook the kale in a pan of simmering salted water for around 10 minutes until you can easily put a fork through the stalks.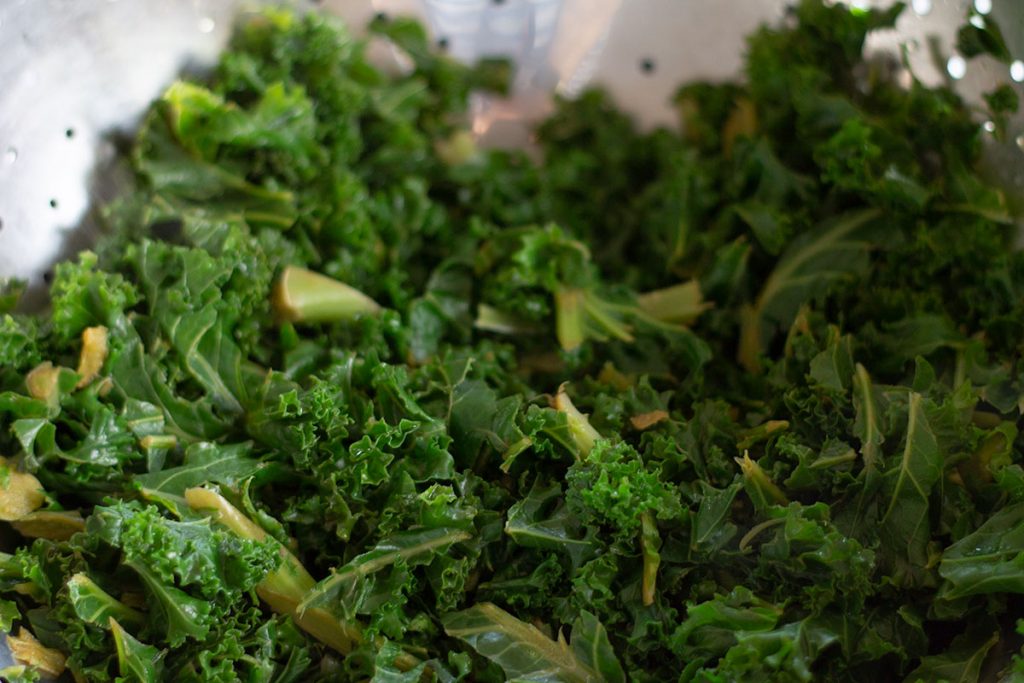 2. Fry the onions and garlic:
Sauté onions on a medium heat until soft. Add the garlic and cook for a further minute.
3. Wilt the spinach
Add the spinach and cook on a low/medium heat until wilted. You might need to do this in two batches.
4. Simmer
Add the kale and vegetable stock. Simmer on a medium heat for 5-10 minutes.
5. Blitz the cottage cheese
Meanwhile, add the cottage cheese to a food processor with 1 tbsp of water and blend until completely smooth.
6. Puree the soup
Use a countertop or hand blender to puree the soup mixture until completely smooth.
7. Add cheeses, lemon juice and season
Return the pureed soup to the pan/Dutch oven. Stir in the cottage cheese, parmesan, lemon juice and season with salt and pepper
8. Serve with lemon zest
Ladle into bowls, top with lemon zest and enjoy.
The secret to perfect Zesty Green Soup:
One of this soup's key delights is its silky-smooth texture. The key thing is not to be afraid of overcooking the kale and spinach or over-pureeing.
Ensure the kale is fully cooked before draining - don't remove it from the heat until you can easily get a fork through the stalks.
Ensure spinach is fully wilted before blending
Puree the cottage cheese until it is completely smooth - adding a tablespoon of water helps to puree the cheese until smooth and silky. Add a little more water if you are still seeing lumps or graininess after blending.
Wipe the pan before returning the pureed soup - it's likely there will be a stray piece of spinach or onion that didn't make it into the blender. Wipe the pan with some kitchen paper to ensure these stragglers are removed and do not become unwelcome lumps in your soup.
What tools/equipment are needed?
Round casserole dish / Dutch oven – I always use my Dutch Oven for soups because it holds heat well and maintains a steady temperature. Use a large pan if you don't have one.
Blender – essential for a smooth green soup. Countertop and hand blenders will both do the job.
Food processor - for pureeing the cottage cheese. You can also use a blender for this but a food processor is best for achieving smoothness.
Lemon zester or fine grater - to extract the lemon zest from the lemon and bring an additional citrusy flavour when serving.
How to eat Zesty Green Soup:
I normally eat this soup for lunch with a couple of slices of toasted bread. Zesty green soup also makes an excellent starter that houseguests are bound to love.
You can also serve Zesty Green Soup with some toasted nuts or seeds.
How long does green soup keep in the fridge?
You can store the soup in the refrigerator for up to 3 days. Store in airtight containers and make sure you move it into the fridge as soon as it is cool to prevent any nasty bacteria from forming.
Can you freeze the green soup?
The soup freezes for up to 3 months and is ideal for batch cooking.
More healthy soup recipes:
Print
Zesty Green Soup With Lemon & Parmesan
---
Author:

Prep Time:

5

Cook Time:

30

Total Time:

35

Yield:

4

1

x

Diet:

Vegetarian
Description
Zesty green soup is packed with nutrients and flavour. Citrusy lemon and nutty parmesan contrast with the earthy taste of pureed spinach and kale. The soup is thickened with blended low-fat cottage cheese, which provides a healthy and high-protein alternative to cream.
This recipe makes 4 medium-sized bowls.
Serves 4.  Use the scaling buttons below to double or triple the quantity.
---
200g

(or

7oz

) kale - washed
Fine sea salt or kosher salt

1 tbsp

olive oil

1

onion - finely chopped

3

cloves of garlic - crushed

250g

(or

9oz

) spinach - washed

400

ml (or 1 +

⅔ cup

or 14 fl oz) vegetable stock

150g

(or

5oz

or

⅔ cup

) reduced-fat cottage cheese

20g

parmesan (or

¼ cup

) - grated 
Juice from

½

lemon
Zest from

1

whole unwaxed lemon 

½ tsp

ground black pepper
---
Instructions
Bring a large saucepan of generously salted water to boil and add the kale. Simmer on a medium/low heat for around 10 minutes until you can easily place a fork through the stalks.
Meanwhile, set a Dutch oven or similar pan to a low/medium heat, add olive oil and gently fry the onions until soft
Add the garlic and cook for a further minute
Set your Dutch oven or pan to a medium heat, add the spinach and cook until wilted (note 1)
When the kale is cooked strain with a colander and add to the main pan with the spinach
Pour in the stock and simmer for 5-10 minutes with the lid on
While the soup simmers, place the cottage cheese in a food processor, add 1tbsp water, puree until completely smooth and set aside.
Puree the soup mixture with a hand or countertop blender until completely smooth and return to the main pan (note 2)
Stir in the cottage cheese, parmesan and lemon juice
Add salt and pepper to taste. I normally add ½ tsp pepper and ¼ tsp salt. 
Serve in bowls topped with lemon zest
Notes
You may need to do this in a couple of batches depending on the size of your pan
Wipe the pan clean with kitchen paper before re-adding the pureed soup to ensure there are no chunky bits in the smooth blended soup
Category:

Main

Cuisine:

Soup
Nutrition
Serving Size:

1

Calories:

180

Sugar:

6g

Sodium:

956mg

Fat:

6g

Saturated Fat:

2g

Unsaturated Fat:

3g

Trans Fat:

0g

Carbohydrates:

19g

Fiber:

8g

Protein:

14g

Cholesterol:

0g
Keywords: green soup with lemon and parmesan